Advent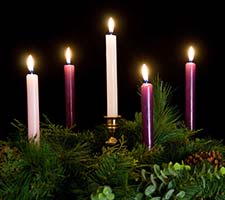 What is Advent
Advent is a period of spiritual preparation in which many Christians make themselves ready for the coming, or birth of the Lord, Jesus Christ. Celebrating Advent typically involves a season of prayer, fasting and repentance, followed by anticipation, hope and joy.
Many Christians celebrate Advent not only by thanking God for Christ's first coming to Earth as a baby, but also for his presence among us today through the Holy Spirit, and in preparation and anticipation of his final coming at the end of time.
Advent Candles (3 purple, 1 pink, 1 white)
On the first Sunday of Advent, the first purple candle is lit. This candle is typically called the "Prophecy Candle" in remembrance of the prophets, primarily Isaiah, who foretold the birth of Christ. This candle represents hope or expectation in anticipation of the coming Messiah.
Each week on Sunday, an additional candle is lit. On the second Sunday of Advent, the second purple candle is lit. This candle typically represents love. Some traditions call this the "Bethlehem Candle," symbolizing Christ's manger.
On the third Sunday of Advent the pink, or rose-colored candle is lit. This pink candle is customarily called the "Shepherds Candle" and it represents joy.
The fourth and last purple candle, oftentimes called the "Angels Candle," represents peace and is lit on the fourth Sunday of Advent.
On Christmas Eve, the white center candle is traditionally lit. This candle is called the "Christ Candle" and represents the life of Christ that has come into the world. The color white represents purity. Christ is the sinless, spotless, pure Savior. Also, those who receive Christ as Savior are washed of their sins and made whiter than snow.